I'm late but not totally, at least I did not miss it completely! I'm right in the middle... of their journey. So this is how you do a blog in a HURRY! If I had not had MALWARE problems at this blog this past MON., I may have remembered this and had this posted then. ¡ QUE DIOS LES BENDIGA!
Follow the team of bloggers as they travel in Ecuador and experience firsthand the ministry of COMPASSION to children living in poverty. Follow their journey in Ecuador via words, pictures and video between November 8 and November 12, 2011 at their own blogs or COMPASSION'S BLOG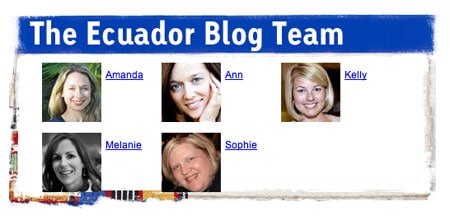 PLEASE KEEP THESE BLOGGERS IN YOUR PRAYERS as they travel and return and also their own FAMILIES

!
BLOG POSTS THUS FAR:
Courtesy of Compassion International:
http://blog.compassion.com/compassion-bloggers-travel-in-ecuador/#ixzz1dKBi6vSh
I copied this because I could not find a web banner that was specific to ECUADOR like this except a small one for "Today is my birthday"... Hope it does not cause any more problems like the previous image that did the damage on Mon. but that was not from COMPASSION.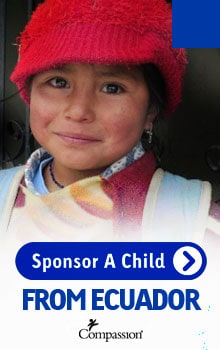 SHOW YOUR COMPASSION TODAY!
and
REMEMBER TO PRAY!