Day 3
"Que mi vida entera esté"
Do you recognize this hymn?
Here's a link to a newer English version of this hymn
Que a mis manos pueda guiar




Que mis pies tan sólo en pos

Y que a Ti, Señor, mi voz

Se complazca en bendecir.

Se complazca en bendecir.




mi ser, mi alma y corazón

Dále la gloria y al honor




mi ser, mi alma y corazón

Dále la gloria y al honor




(Repeats from the beginning then continues)




Y Tu trono en él tendrás.




(

once again repeats, can you find where?

)

*************************************


Other verses not included in this YouTube



Lávame en la sangre del Señor,
Límpiame de toda mi maldad;
Traigo a Ti mi vida para ser, Señor,
Tuya por la eternidad.
Tuya por la eternidad.



-Coro-



Que mis labios al hablar
Hablen sólo de Tu amor;
Que mis bienes dedicar
Yo los quiera a Ti, Señor.
Yo los quiera a Ti, Señor.



-Coro-



Que mi tiempo todo esté
Consagrado a Tu loor;
Y mi mente y su poder
Sean usados en Tu honor.
Sean usados en Tu honor.



-Coro-
*

NOTE

: for the

CORO

(chorus)

; I wrote that from listening to it over and over because that is not the words that are given when you 'google' lyrics of this song. So they may not be correct. Also, in Spanish, words run together especially in songs ... so you really have to focus to hear, even I do. This is why it's important to listen to singers that clearly pronounce the words and enunciate.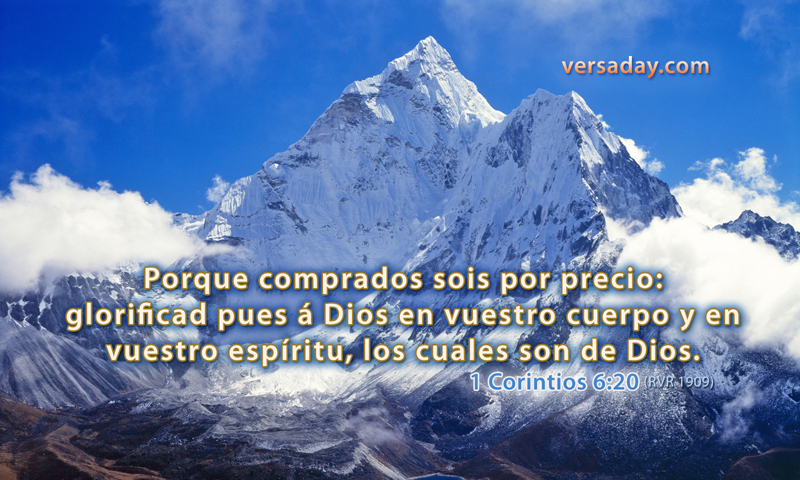 song taken
from this Bible Verse
1 Coríntios 6:20
"That my whole life may be..."
Many words in our English are very similar to Spanish, you just need to change the pronunciation to Spanish sounds like:
HONOR
is one from this song
same in bo
th languages
but pronounced without the "h" sound in Spanish
You'd be surprise how many words
you already may know
Let's just take the ending

-tion

in English. Make a list of words that end in

-tion

[shun]

.
action
fiction
reaction
emotion
motion
lotion
corruption
communication
Resurrection
etc.
Now change the -tion to
-ción
[pronounced
see - ón
]and you have the word in Spanish.
Accent on the 'o' which means that your voice goes up. Usually with written accents above the '
ó
' but I have to remember to switch to my Spanish keyboard to have those accents available. Most of the time this works, and you now have many new words added to your vocabulary...
acción
ficción
reacción
emoción
moción
loción
corrupción
communicación
Resurrección
Remember the rule on each syllable contains a vowel
when you go to pronounce a long word like
[Reh-soor-reck-see-ohn]
Resurrección de Jesucristo
See, it's not that hard
now say it quicker
And if you have a moment, please visit a few of the 1000s participating in this 31 day series, hosted by The Nester.