Back on
Day 27
of my
31 Days
, I shared the following song and many others by Kari Jobe from her latest CD "Where I Find You"/ "Donde Te Encuentro"
Since I am sharing it in English over at my main blog,
aMazing Grace
...
I thought I'd center on that song again over here for our continuation of learning Spanish, because I did not teach anything when I shared it back in "
31 Days
..." just shared the lyrics in both languages and it's a good song.
If you are doing the lessons at
Study Spanish
, this past week, I had linked
Unit I
; Lessons 1-7 ending with
Subject Pronouns
. I should continue with lessons 8-14 but I'm skipping those and jumping ahead to
Unit II
. because of the song I've chosen by Kari Jobe. However, if you don't know anything yet about Verbs in Spanish, I'd recommend that you continue on with at least
Lesson 8
(or
8
,
9
and
10
covering Regular Verbs) first.
The lessons for this week, if you'd like to do one a day should be (the above recommendation of 8, 9,and 10):
8. Reg. Verbs I
9. Reg. Verbs II
10. Reg. Verbs III
Followed with these as your main focus from Unit II:
15. Ser and Estar I
16. Ser and Estar II
18. Ser and Estar IV
Because Kari's song is
"AQUI ESTA"
(with accent on the "i"and the last "a", I don't have the Spanish Keyboard on, nor am I very good at doing it with Capital letters).
"Está"
comes from
"Estar"
and it is the 3rd person singular form of "to be"
Aquí
[pronounced like "a key"]
means
"Here"
which is the complete title in English.
I have chosen to share the one with the lyrics in it HERE
AQUI
cerca está
Aquí está
Exhala
then returns to above * and repeats
***
Respira
looks much like the English words
"

respiration

or

respiratory

"
so that is what it means
from
and it is in a command form telling YOU to breathe
Commands are not taught until Unit 8,
although they are not that difficult to learn
and are used frequently in songs.
The following word in the song is a command also
that looks like a word in English
so I'm sure you can guess what it means
[remember not to pronounce the "h" is all]
from the verb
you will find/meet =
encontrar
ás
[future tense from
"
encontrar"]
[location]
***
is the focus of this lesson
ESTAR =
to be
3rd person form is
"is"
it can be
or
el burro está en el establo
the donkey is in the stable
estar
when "to be" is used for
location (geographic or physical)
temporary condition
and
progressive tenses
(*construction as used below in the Bible verse)
so
ser
is used for all the rest
of "to be"s
like
descriptions
and
what is listed in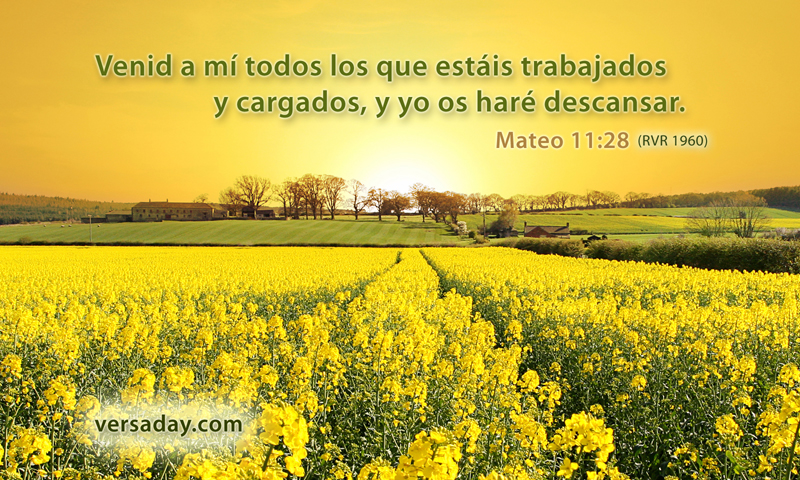 Mateo 11:28


"Venid á mí todos los que estáis trabajados y cargados, que yo os haré descansar."
Matthew 11:28
and
have fun
SPEAKing
SPANISH